10 Easy Social Media Posts for Real Estate Agents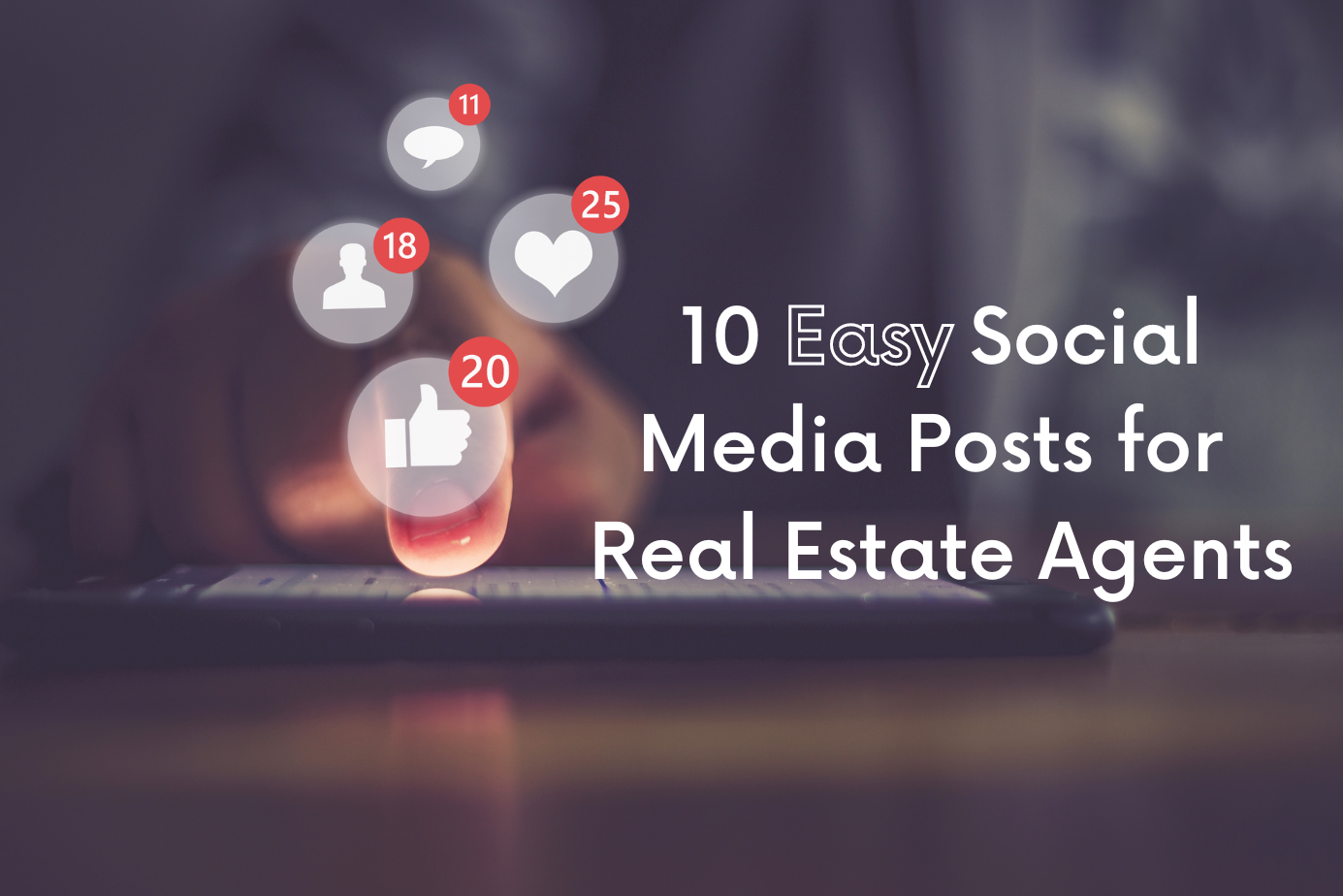 Real estate agents who use social media to lead generate know that posting consistently is the key to more growth and awareness. You need relevant and attention-grabbing content to keep potential clients coming back for more. But what do you post about other than market updates and new listings? We'll cover these topics and more so you can fill up your content calendar and grow your business faster. Here are 10 easy social media posts for real estate agents to educate, inspire, and engage their target audience!
#1: Market Updates
"How's the market doing" might be one of the most asked questions for real estate agents. Post daily or weekly updates on your social media with a short analysis of what the data means. Make a historical comparison every now and then to show how the market is currently trending compared to previous years.
#2: Available Listings
Share photos and video tours of available listings, and not just your own. Look for listings that fit the needs of your target market and then post about them, offering to provide a private tour upon request. Don't forget to give credit to the listing agent and always ask them for permission before posting.
#3: Home Buying & Selling Tips
Post your best tips for home buyers and sellers at every stage of the process. Even better, create an e-brochure or infographic that you can easily share with this information. People are more likely to engage with your posts and remember the data when they process it through images.
#4: Real Estate Terms
There's a lot of vocabulary to learn in real estate, and that's before you even get into the legal language in the contracts. Educate your followers with posts defining the most common real estate terms they might come across. Then remind them to save the post for future reference and to follow you for more.
#5: Interior Design Tips
Don't just help your clients find their dream home – help them decorate it, too! Share interior design tips from professionals or from your own experience. Pair eye-catching images with your posts for full effect and to inspire creativity in your followers!
#6: Neighborhood Spotlight
The best real estate agents are seen as local experts, so post a neighborhood spotlight weekly or monthly. Share the cutest cafes in the area, the best restaurant for pasta, or the quietest place for a walk. Show your audience how they can live life to the fullest in their own neighborhood (or what life could be like in their dream neighborhood)!
#7: Answer the FAQs
Keep a running list of the most frequently asked questions you hear. You can also host an AMA (Ask Me Anything) session to get questions directly from your followers. Then film yourself answering the FAQs to hold their attention longer and to satisfy the social media algorithms (video performs best!).
#8: Financing Tips
While you're not a financial advisor (unless you are), you can share some basic financing tips and point your followers in the right direction. Let them know what loan options exist, which money mistakes to avoid, and what financial data lenders will ask them for. Offer to share a few recommendations of lenders you trust if they'd like to know more.
#9: Industry News
Successful agents stay on top of the latest industry news, but they share it with their followers, too. Post about federal interest rates, market shift predictions, upcoming developments, and new technology. Follow the top real estate news sites and share their links along with a few comments of your own.
#10: Behind the Scenes
Marketing your business as a real estate agent means getting a little personal, too. After all, you are your business. Share what you do behind the scenes, from touring new-build communities and setting up open houses to attending networking events and taking educational courses. Show off all the hard work you do to make your clients' dreams come true!
These are just a small handful of social media posts for real estate agents to grow their business online. There are many, many more opportunities to engage your target audience and inspire them to take action and make some moves in real estate. The key is to consistently provide valuable content, letting them know you're the agent they can trust to answer all their real estate questions. And don't forget to have some fun with it – humor is an important pillar in a social media content plan (memes are popular again!).
Looking for high-quality, professional real estate photos to bring your social media posts to life? Book your residential or commercial photography service with Square Foot Photography today!